Healthy Soil, Healthy Pasture, Healthy Horse
June 12 @ 2:00 pm

-

5:00 pm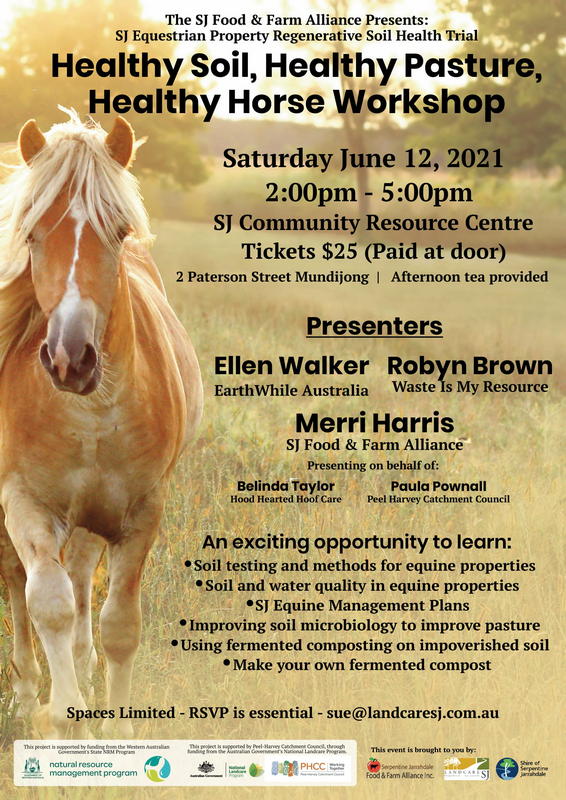 SJ Equestrian Property Regenerative Soil Health Trial Workshop
Due to the success of the SJ Equestrian Property Regenerative Soil Health Trial workshop an additional workshop will be held. The SJ Food and Farm Alliance are pleased to present the workshop with support from Landcare SJ.
The workshop is designed to expose equine property owners to a range of soil assessment methods. Explain soil health at a microbiological level and demonstrate compost making to help improve soil and pasture on equine properties.
President of the SJ Food and Farm Alliance Dr Merri Harris said "Equine small landholdings on the Swan Coastal Plain often suffer from lack of year-round ground cover. This workshop will assist property owners to better understand their soil. Properties will benefit by having improved soils, better pastures and healthier horses."
The informative workshop will include presentations from Ellen Walker from EarthWhile Australia. Ellen will explain the fascinating world of soil microbiology and its effect on soil and pasture health. Robyn Brown from Waste is My Resource will introduce the technique of fermented compost. The compost can be assembled from material common on equine properties for use to improve pasture. Information on soil testing from Belinda Taylor of Hoof Hearted Hoof Care will be presented by Merri Harris. Merri will also present information from Paula Pownall, Peel Harvey Catchment Council, on soil and water quality.
For those interested equine enthusiasts there is the potential for a follow up field day to complement the workshop. The SJ Equestrian Property Regenerative Soil Health field day will provide a practical demonstration on the fermentative composting technique. A how to make and apply the fermented compost 'brew' will also be presented by Robyn Brown
The SJ Equestrian Property Regenerative Soil Health workshop will be held on Saturday June 12 commencing at 2.00pm until 5.00pm. Located at the SJ Community Resource Centre, 2 Paterson Street Mundijong. Afternoon tea will be provided. Tickets are $25 to be paid at the door. Places are limited so please RSVP to Sue@landcaresj.com.au.
This project is supported by funding from the Western Australian Government's State NRM Program and the Peel-Harvey Catchment Council, through funding from the Australian Government's National Landcare Program.