With acknowledgement to our generous supporters, Landcare SJ and Birdlife Australia have partnered to establish 18 COCKATUBE(R) nesting hollows in the 2021 Woorooloo W.A. bushfire footprint. 
Cockatube hollows were located across Gidgeganup on private landholdings adjacent to Walyunga National Park.  The area suffered from bushfires in 2021 which burnt out 11,000 ha in total. 
Landholders were invited to participate, and properties were selected where breeding hollows had been lost in the fires.
Landholder Janet explained that Jarrah burned during the bushfire, but Wandoo, which hold a great deal of water, survived. However, the fire continued to burn underground, and the Wandoo steamed to exploding in the subsequent weeks. It left a landscape of chimney stack tree trunks.
Landholder Ian had a massive ancient Wandoo hollowed habitat tree burn and fall after the fires.  He said his fortune may have turned with lucky Cockatube #888 installed on his property.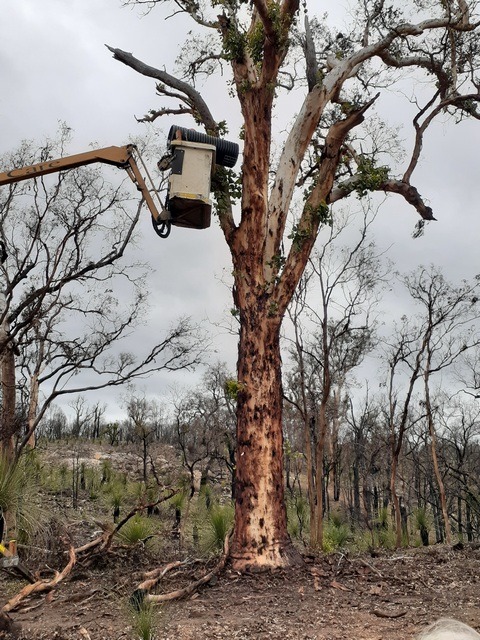 Landcare SJ and Birdlife Australia (WA) have been collaborating for over a decade in Cockatube nest hollow installations and community workshops, particularly in the Peel-Harvey Catchment.
Adam Peck from Birdlife Australia co-ordinated landholders on this latest collaboration.
The project was funded through community and corporate interest in providing breeding habitat for the endangered, distinctive white tailed Carnaby's and Baudin's Black Cockatoos.