Landcare SJ's annual Schools National Tree Day event was held at Federation Park, Serpentine on the 27th July 2018.
Thank you to all the community members who came along to plant.
Children from Byford Childcare Centre, local Homeschoolers, Eton Farm Education, and some local primary school students planted with so much enthusiasm we were finished in no time.
Thank you to Maddington Toyota, Greening Australia, Serpentine Historical Society, State Natural Resource Management Program WA and the Mundijong Public Library for supporting the event. It was great to see representatives from these organisations coming along to help us plant as well.
Another thanks to the Mundijong Public Library for providing a link to the local Homeschoolers and Eton Farm Education.
The kangaroos have been thwarted with some barrier fencing keeping them out of the newly planted sedges. Can't wait to see what the site will look like in 12 months!
Thanks to the Serpentine Historical Society for opening up the Old Bridge School for the kids to experience after all their hard work planting.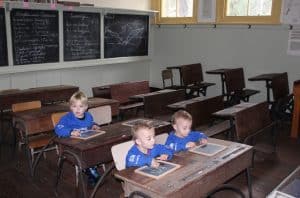 Great photos were taken by Colleen Rankin from Byford EnviroLink.