The 2017 Landcare SJ National Tree Day Celebration was held at the Byford scout hall on July 30th. The scouts turned up enthusiastically swapping tent pegs for tree stakes as they planted native seedlings and then guarded them against the local kangaroo population.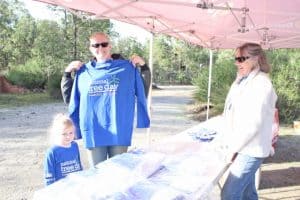 Over 100 people turned up on the chilly, but sunny morning, to help plant native seedlings alongside the 1st Byford Scout Group Hall building. A sausage sizzle and some free T-shirts rounded out the day that saw over 1700 seedlings planted and 7 cubic meters of mulch spread! The seedlings planted consisted of 30 species, all native to the local foothills were planted in the area around the Byford Scout Hall. The Byford scouts, their leaders and community members threw themselves into the event and it was lovely to see so many young faces on the day.
[perfectpullquote align="full" cite="" link="" color="" class="" size=""] Landcare SJ Would like to thank the community for their support of this annual event, it's great to see so many people committed to the local natural environment at our National Tree Day Celebrations.[/perfectpullquote]
A big thank you to support provided by the Byford & Districts Community Bank Branch, SJ Land Conservation District Committee, Prosser Toyota Gosnells, 1st Byford Scout Group and the Shire of Serpentine-Jarrahdale.
It was great to see community groups embracing the event with groups attending from the Rotary Club of Byford & Districts, SJ Baha'i community and the SJ Food and Farm Alliance.
The Shire of Serpentine Jarrahdale reserve is a registered Bush Forever Site but a large area had never been rehabilitated over the many years since the area was a rifle range.  The land was originally cleared for the club in 1908 and had a strong membership and social following.  At one point the Club folded but in 1964 a team of volunteers revamped the old range and formed the Armadale/Byford Rifle Club.  The Club closed in 1982.  The Scout Hall was built in 1997 and the Byford & Districts Country Club in 2016, both within the degraded area of the reserve.
In 2016 the Landcare SJ National Tree Day Celebration was held at Goorolong Brook in Jarrahdale. Click here to read up about that event.
Don't forget to keep a look out for next years National Tree Day event- we would love to see you there.