Featured Posts
July 24, 2016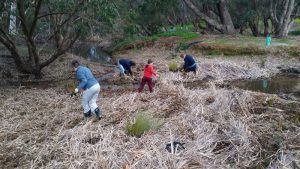 The 2016 Planting Season Serpentine Jarrahdale has kept the staff at Landcare SJ busy assisting community groups to revegetate reserves in the region.
Federation Park, 27 July The Serpentine Primary School children helped with planting 800 seedlings at the Serpentine River 'Federation Park'.
It was a beautiful morning and the kids did a great job with replacing seedlings that didn't survive from last year and also in the areas where the bike jumps have been removed.
---
July 1, 2016
Rubbish left by builders could pollute the Serpentine River system.
Members of the Byford Enviro-Link and the By ford Progress Association have been picking up  rubbish from the public open space that runs along Manjedal Brook.
Twenty bags were taken out of the Brook while the total for the immediate vicinity is now more than 300 bags.
Free Verge Plant Program
It's time for the annual Free Verge Plant Program brought to you by Roadside Care Volunteers and the Shire of Serpentine Jarrahdale. SJ residents can apply for free verge plants and herbicide to manage roadside verges in our rural and urban areas.
The photos are a good example of weed control using plants. Over time the native shrubs will shade the weeds out.

Successful applicants will be notified of the annual plant collection day, where you will be able to choose your own native plants according to the conditions on your verge.
Pick up is from Australian Natives Nursery, Oakford.
 Contact the Landcare Centre by email teele@landcaresj.com.au or telephone on 9526 0012 and request an application form or download a form here.
Applications close 22nd July.
Some conditions do apply.
Time to Plant Local Native Species
We have had some good rainfalls recently. Now is the time to start planting local natives.
Keeping it local is a guide to growing local plant species local to the regions of Serpentine Jarrahdale and North Murray.
To download a copy of 'Keeping it local' click here. If you would like a hard copy contact or visit the Landcare SJ office at 12 Paterson Street, Mundijong.
Get Involved
Byford Enviro-Link (BEL)
Every Friday from 8am - 9am
First Sunday of the month from 10am
SJ Equine Landcare Events